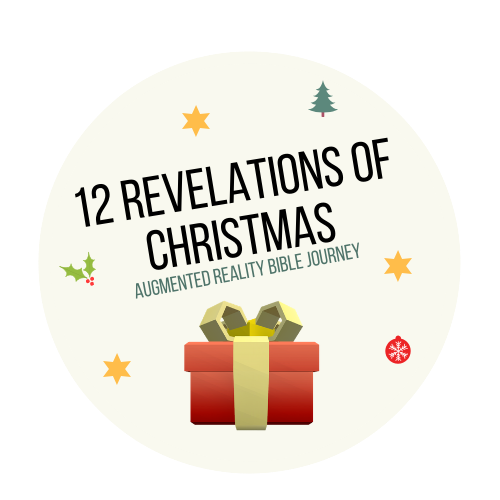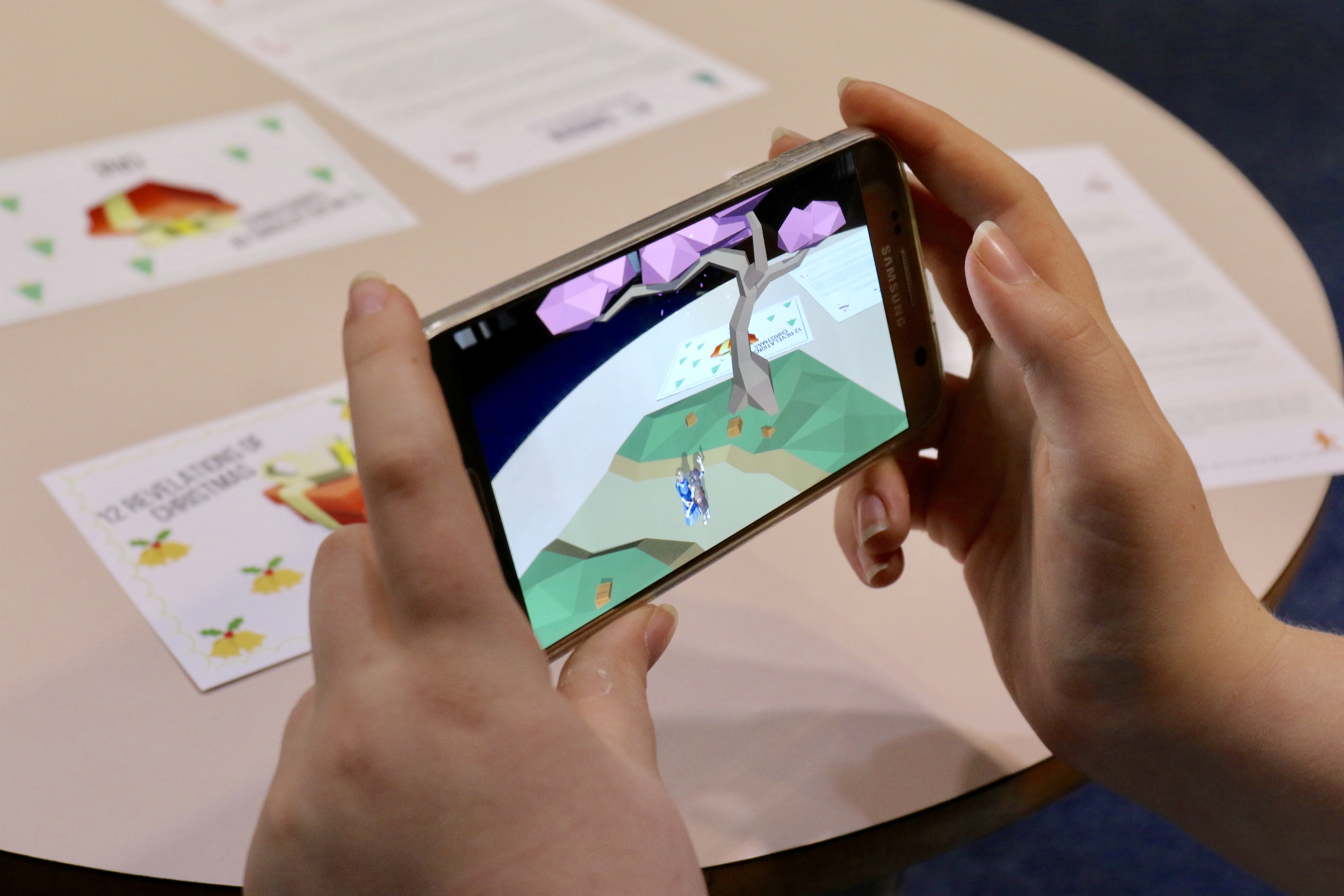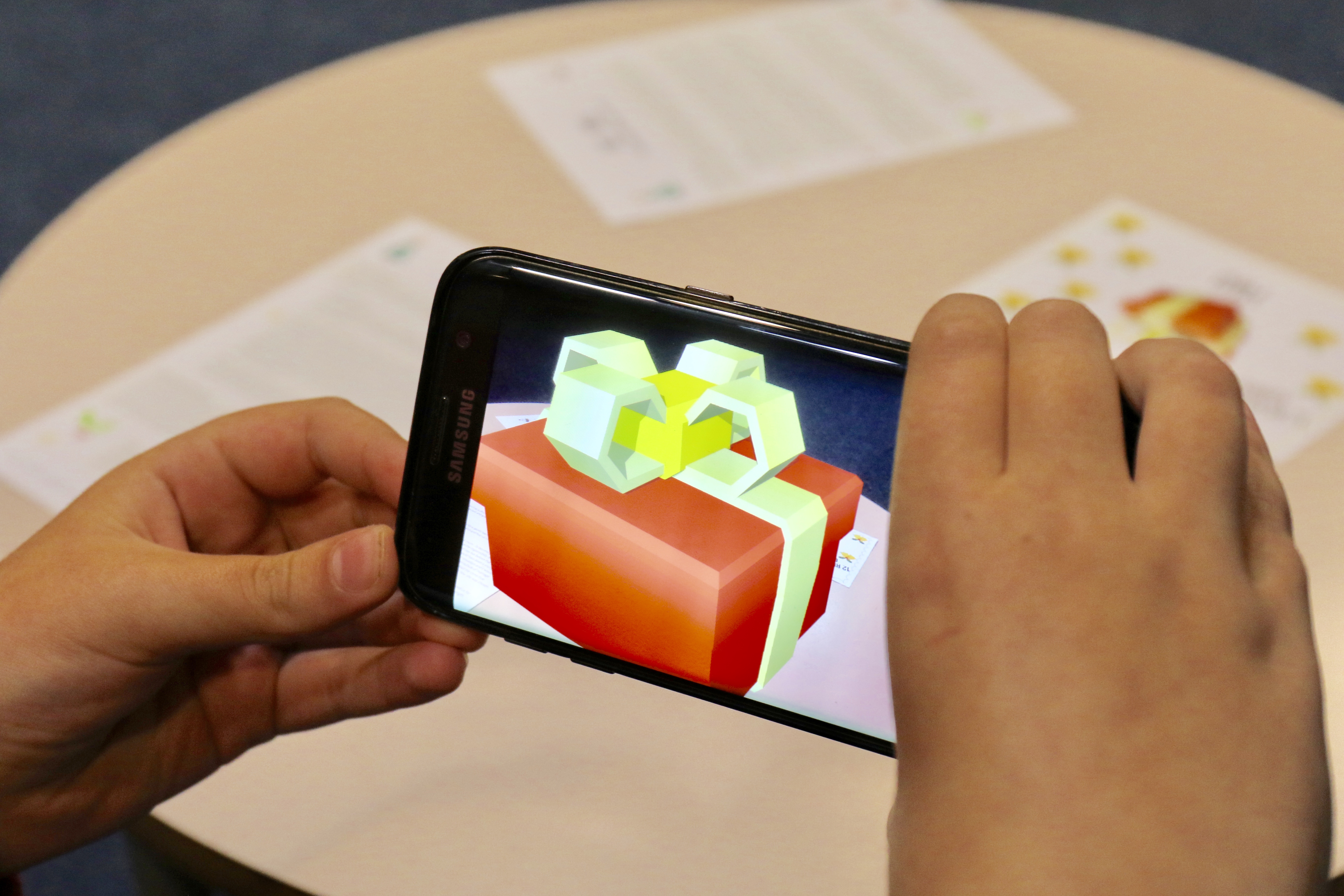 We have created an exciting new Augmented Reality, digital Christmas resource. This resource has been designed to be used with children and young people in a range of settings including churches, schools, in detached work and as a personal devotion in the run up to Christmas. Our hope is that this resource will help children and young people discover afresh the real, amazing and miraculous meaning of Christmas. There are 12 different revelations of Christmas to explore and discover each with an exciting, digital, Augmented Reality experience that helps bring to life the truth and meaning of different parts of the Christmas story. We want to help the church grow in confidence in using digital technology as we believe this will engage with a generation of young people who love to use digital innovations as part of daily life. We believe this Christmas resource will be a great tool to do just that. This resource enables you to explore 12 different 'revelations' or aspects of Christmas. The story comes to life in front of you through your smart phone. Each of the themes encourages you to think on and consider the truth and meaning of this key time in the Christian calendar. We have then created 12 devotional reflections that can be used as a session plan within a youth session. These offer a Christian definition of each revelation, a Bible reflection, questions to consider and a practical idea to share this revelation with others. Click the download button below for a free sample of the 1st revelation of Christmas which is 'Joy'.
Steps to help you use the 12 revelations of Christmas AR activity.
Download our app by searching 12 Revelations of Christmas App

Open up the 12 Revelations of Christmas App
It will ask you to allow the app to use your camera – click agree.
Place your phone over the AR card
Tap the gift three times to open the AR activity
Once the AR activity has finished use the correct devotion to explore a revelation of Christmas.
To order your 12 Revelations of Christmas Augmented Reality resources box click the button
Advent Missional Ideas
Click on the button below for a set of ways to engage with this Augmented Reality resource. These could be used within your Church service, in a prayer space in school, perhaps as a geocaching experience or as a Christmas journey through a village, town or city. They are just some ideas to help you see how AR can be used as you connect with Generation Z using digital interaction. We are more than happy to chat over these ideas on the phone. Click For A Set Of Christmas Augmented Reality Digital Activities
Helping The Church Reach More People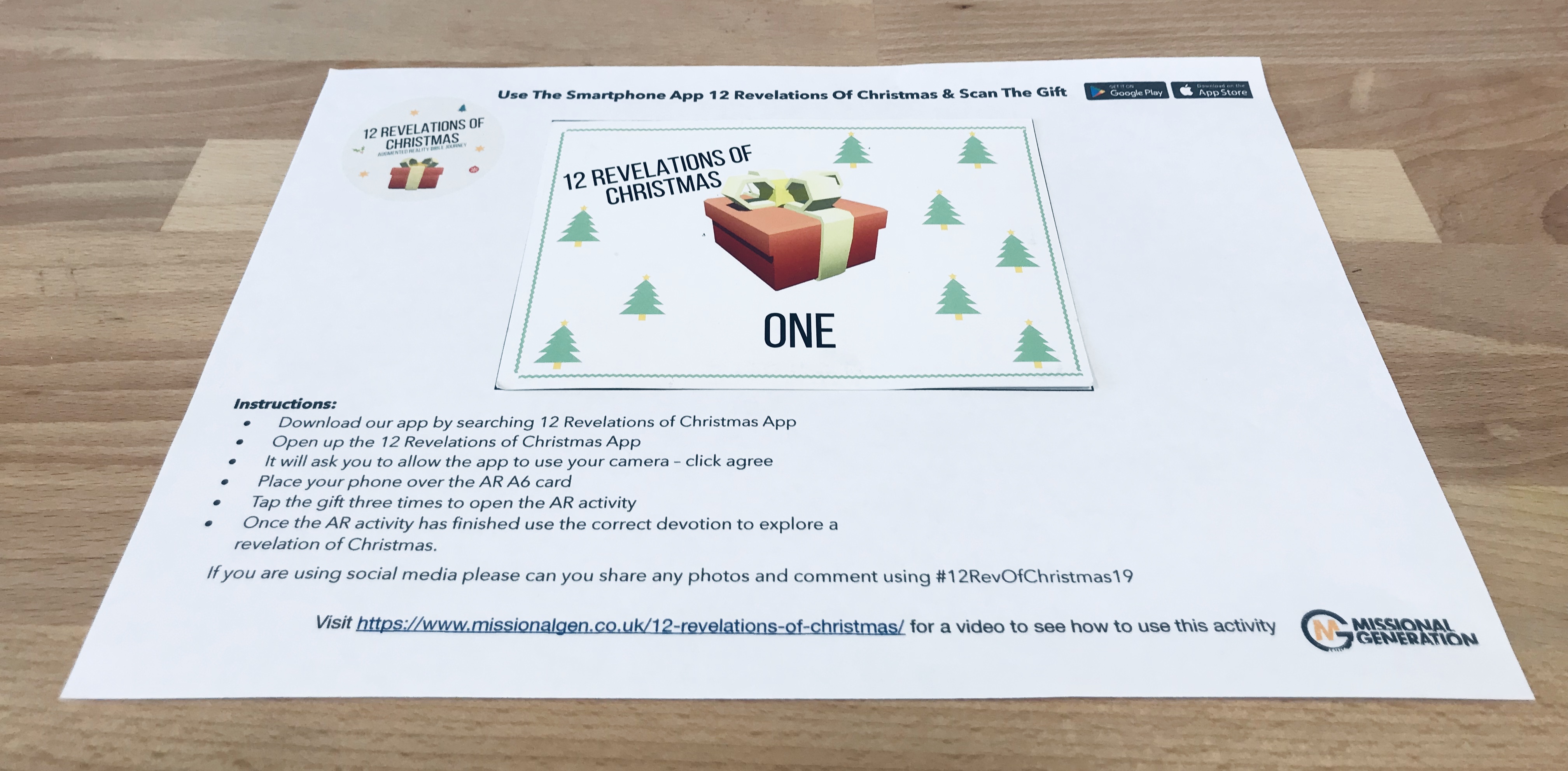 It is really exciting to hear that there are a number of groups plan to run a geocache style advent hunt across their town or city using our 12 Revelations of Christmas Augmented Reality resource. This is a great idea to connect with families in your community. To help you plan your own Advent Hunt, we have created an additional resource that you can print and laminate to display across your area for the hunt. The card has instructions and can be placed within local businesses. We are excited by the opportunities this will bring for people within your community to explore the truths of Christmas. Download Free A4 Laminated Card For The Activity
What is Augmented Reality?
Augmented Reality is where you bring something into your reality using a smartphone or tablet. It allows you to interact with objects, environments or watch characters interact on the table or in life- size around you. AR has the power to inform in a deeper way than conversation and just reading texts.
Download The App
Download our Augmented Reality young people's Christmas app by searching for the "12 Revelations of Christmas". (We suggest using your wifi to download this app).
Download our Youth Work and Young people's APP Search "Missional Generation"