Bringing Good Friday and Easter Sunday to life
Thank you for sharing our excitement in the new Augmented Reality Easter Resource that we have created. This resource is for you to use this Easter time as you bring to life a family-friendly scene of the cross and the resurrection round the table at home. We pray this resource will bless many families and churches looking to support all who are celebrating Easter and exploring the exciting message of Easter around the family table at home.
Within this resource, there are two Augmented Reality experiences – one called 'At the cross' and the other called 'He is risen'. These are both accompanied by a devotion and activity card that helps you to reflect and to take part in fun activities as you explore this exciting moment in history and the new life it offers each of us.
Steps to help you use the Easter Interaction AR activity. 
Download our app by searching MGAR

Open up the MGAR App

It will ask you to allow the app to use your camera – click agree.

Place your phone over the On the Cross or He is Risen card. Do not place the two images together. Alternatively use the image on a tablet that is placed on a flat surface.

Please note: you will need to be 30cm away from the image you are scanning

Once the AR activity has finished use the activity card to explore the theme further.
Please send us an email at admin@missionalgen.co.uk and leave your telephone number if you would like us to call you to talk you through this process.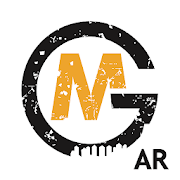 How to scan the resource with or without a printer
To connect to the AR resources online, you will need to either print the resources which will enable you to scan them with your smartphone. Or alternatively, have the image on a tablet placed flat on a table and use your phone to scan the image directly from the screen.
What is Augmented Reality?
Augmented Reality is where you bring something into your reality using a smartphone or tablet. Augmented Reality has the power to inform in a deeper way than conversation and just reading texts.
Digital technology is a great tool to communicate a message or a theme and we have created a set of interactive, Bible-based activities and everyday life-faith stories that can be accessed on your smartphone using Augmented Reality. These can be used within RE lessons, Chaplaincy spaces, prayer spaces, youth groups, residentials, around the table at home and as a personal devotion. We'd like to invite you to download other samples of Augmented Reality activities which we have created. You will find a sample of the 12 Revelations of Christmas and The Good Samaritan.  These can be found by clicking on the sample button. Our plan is to continue creating new digital resources. To download the MGAR app effectively, you will need to use wifi.