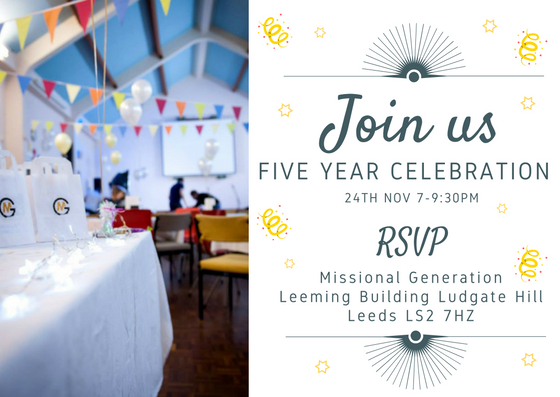 On the 24th November we will be celebrating 5 years of Missional Generation.  
We would love you to join us at this celebration where we will give thanks to God for all that has been achieved through Missional Generation over the past 5 years and to share our future hopes, dreams and plans.
Time : 7-9:30pm
Venue: Missional Generation Leeming Building, Ludgate Hill, Leeds LS2 7HL
Parking: John Lewis car park for Sat Nav use LS2 7AS. Evening parking charges £3
What to expect: 
Our celebration will include light refreshments, entertainment, chance to experience first hand our VR and AR sessions, explore our missional resources, hear testimonies from young people with time to pray and an opportunity to support our work. We will introduce you to the MG team and share about some of the fantastic partnerships we have with Churches and Christian charities across the M62 corridor.
We have been really blessed by the many doors that God has opened for us in the first five years of Missional Generation.  It has been a joy to connect with many Churches and Christian charities.  Our Live and Share programme has empowered local young people to grow in their awareness of their God given identity and become empowered to share their faith in all arenas of life.  We have been so blessed by the network of Churches and Charities who plan the Mission United Faith In Life gatherings and residentials.  Our celebration will give you opportunity to hear some of the testimonies of lives that have been changed and impacted by Jesus.
We are also excited to share our plans for developments in Bradford and Leeds, our VR and AR resources (that are opening-up many opportunities to share the gospel with young people) and an amazing initiative we are developing called The Fountain.  The Fountain will enable local young people to explore an idea, dream or ambition to advance the Kingdom of God and will see these young people grow in confidence and awareness of their calling and gifting.  We believe The Fountain has the potential to ignite many young people to step out in faith and advance the Kingdom of God.
We would love you to join us for this celebration so please put the date in your diary and click on the button below to confirm your attendance.
If you are coming with others please do encourage them to also book a ticket this will help us with planning our refreshments.
If you have any problem finding us or need to chat about getting to us please call us on 07815077836.
We look forward to seeing you on the 24th November.