What is inside the Box
We have created a digital start up box to help Youth Leaders explore the immersive youth work resources we have created in Virtual Reality and Augmented Reality. You can experience first-hand Jesus rising from the dead in Virtual Reality and fight Goliath in Augmented Reality. In addition to these, you can also download our Missional Generation app and explore 2 years worth of youth work sessions that help young people explore faith, mission and evangelism.  We have also included some of our printed resources.
Inside this box you will find:
Virtual Reality Headset including a how to set up your headset card

Good Samaritan Augmented Reality activity

A sample from the 12 Revelations of Christmas Augmented Reality resource

Virtual Resurrection both for teenagers and children

A David and Goliath Augmented Reality activity

Augmented Reality Time Travel devotion resource

Access to our smartphone app that has two years worth of devotions

A voucher for a discounted school's visit

A voucher for a discounted VR & AR pop-up gathering in your local context

A selection of two paper small group devotions

The Easter Journey devotions suitable for individual or group use

A booklet describing what Missional Generation does

A user guide letter helping to explain how both AR and VR resources can be used
We will make you aware of new resources as and when they become available via social media feeds or you will get a request to update your app via your smartphone to see these new resources.   These will either be free resources that are available in your app store.  Some of these resources will have purchasable extras that will enhance your groups experience and understanding of the theme or story connected to the digital resource.   As of May 2019, the MGVR app now has the ability to watch the Lord's Prayer in 360°.


NEW RESOURCE
We have a brand new Virtual Reality resource that uses typography and spoken word to immerse people in to an experience that helps to show the power of the Lord's Prayer. 

Over the past month, we have used this resource with youth groups and it has been really exciting to see young people exploring why prayer is so important and how it has the power to change lives.

This resource is available to download for free and is a perfect resource to use during the Thy Kingdom Come weeks that run from 30th May.

To have the chance to use this app visit your app store and search MGVR. Once the app is downloaded use one of our VR headsets to view The Lord's Prayer. 

If you do not have a VR headset then please consider ordering one of our Digital Youth Leaders Take Away Boxes.

If you have already downloaded the MG Resurrection via your Android or iPhone store, you need to update your app and it will convert in to the new MGVR app.  This will mean that you can access new Virtual Reality resources as they become available in one place.  This is where you will find the new Lord's Prayer Virtual Reality experience.
ORDER OUR DIGITAL YOUTH LEADER TAKEAWAY BOX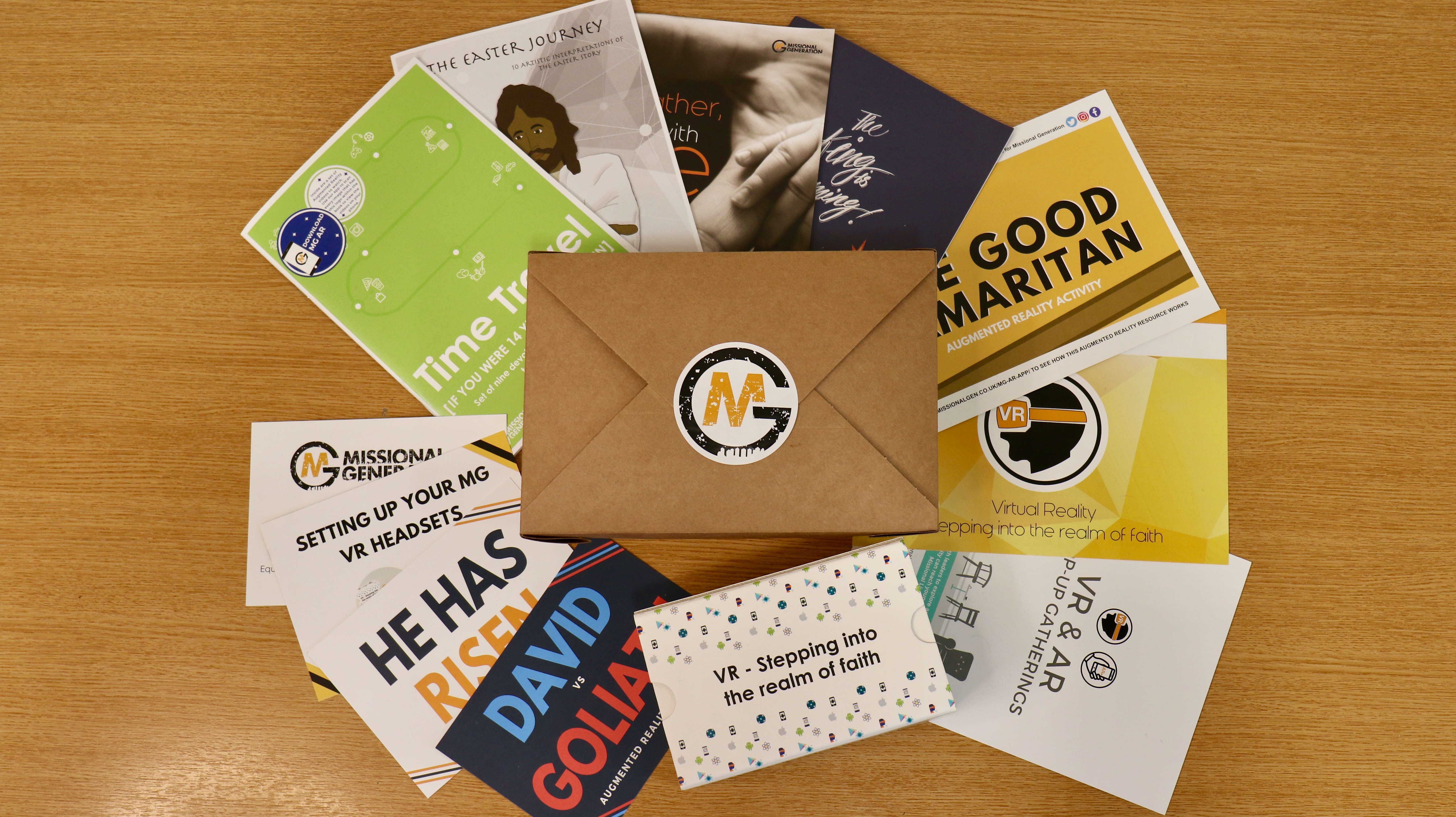 Each digital youth leader's takeaway box is priced at £15.  You can order one by visiting our website shop by clicking on the button below.
 When a box has been purchased,  we suggest you look through all the resources and we would also be very happy to chat through the possibilities.  The details are in the box on how to arrange either a telephone conversation or a Skype coaching session.