The Mission United Faith In Life central team ar busily planning the details of a digital MUFIL Summer Gathering. This will take place on Friday 10th July between 7pm and 9pm on zoom costing £5. It will have the feel of our Mission United Faith In Life gatherings, but online – with a time of worship and short talk to challenge the young people in our care to connect with Jesus and grow in relationship with Him. Alongside this, we are planning some exciting zoom rooms where young people can take part in different fun activities. The booking website will open next week and we would love you and your group to book on.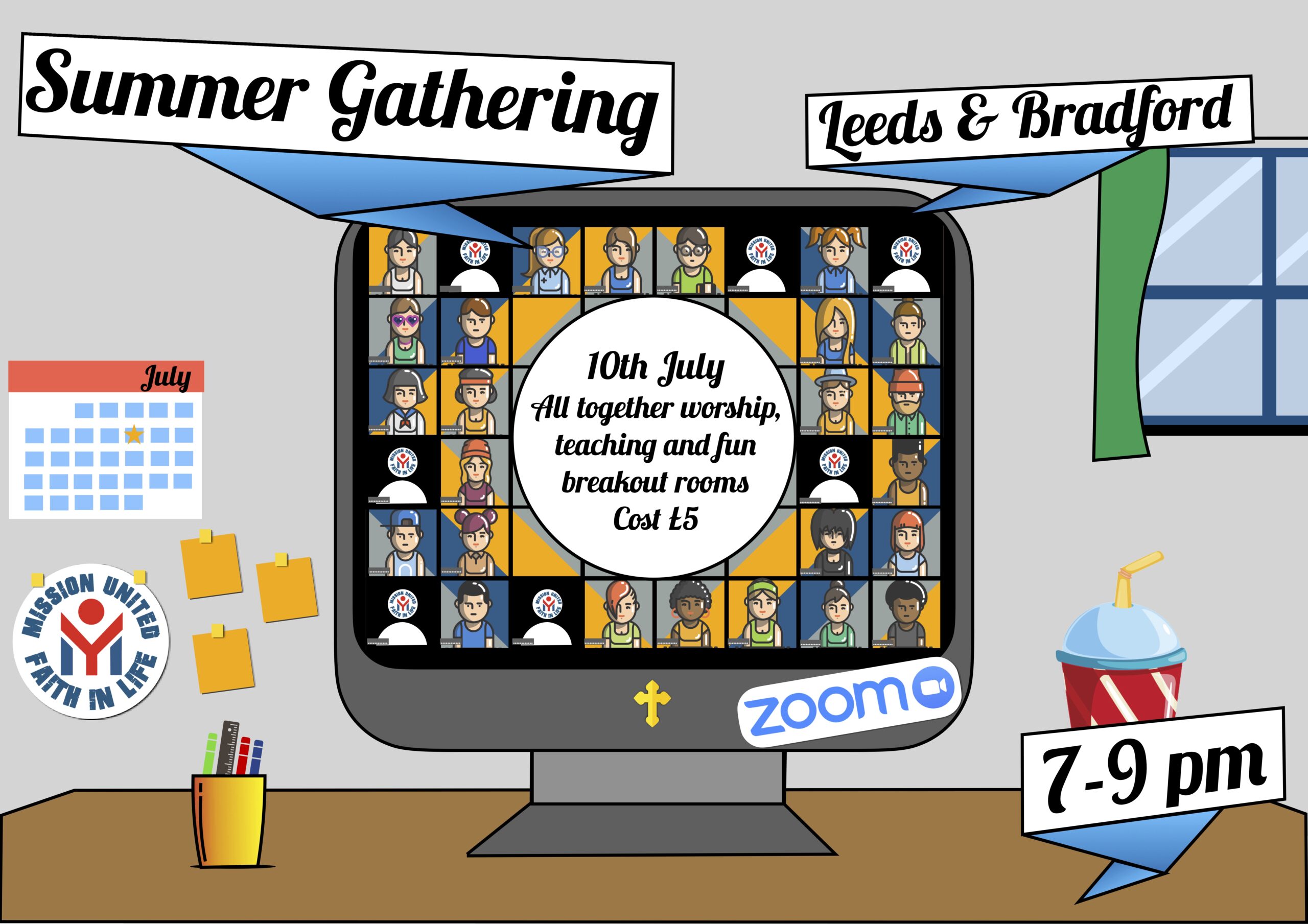 We will do all we can to make this a fun and accessible evening for all young people who will be leaving school Year 6 up to 18. We always open up our summer gatherings to young people who are moving on to secondary school as a way of encouraging them to connect in to our Autumn gathering. With this in mind, we will send youth leaders codes of conduct to discuss with your young people to make sure all feel welcomed and safe over the gathering.
We are really excited about this evening and do hope that you can join us as it is going to be loads of fun and a great space to grow in community and connect together.
Cost: £5 (for this you will get a summer T-shirt, Zoom breakout rooms, Live Worship, Live Teaching and Prayer Ministry)
We ask that all bookings are made by the youth leader rather than a parent or guardian. On booking, event info will be sent to the youth leader to pass on to young people and their parent or guardian.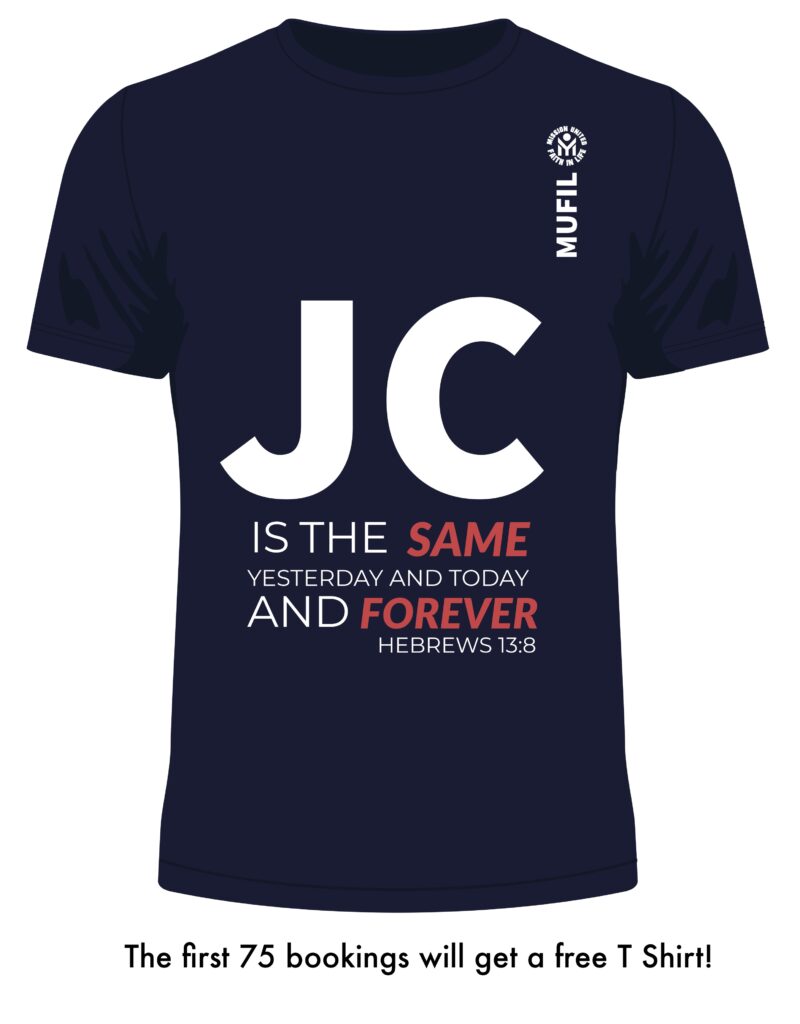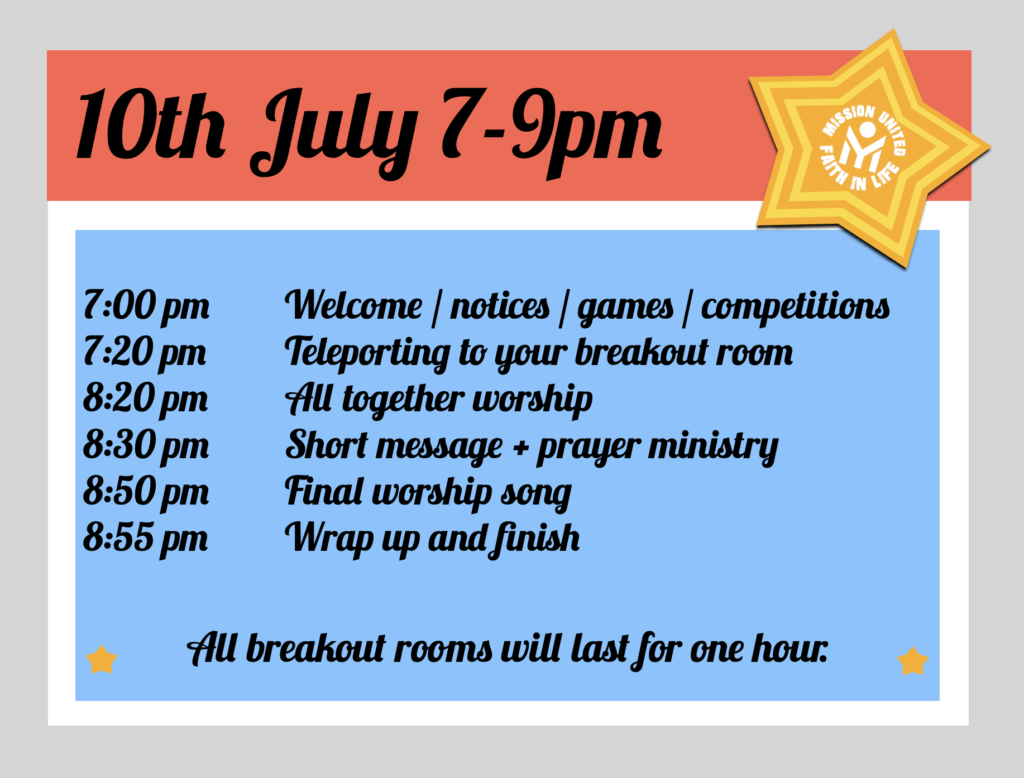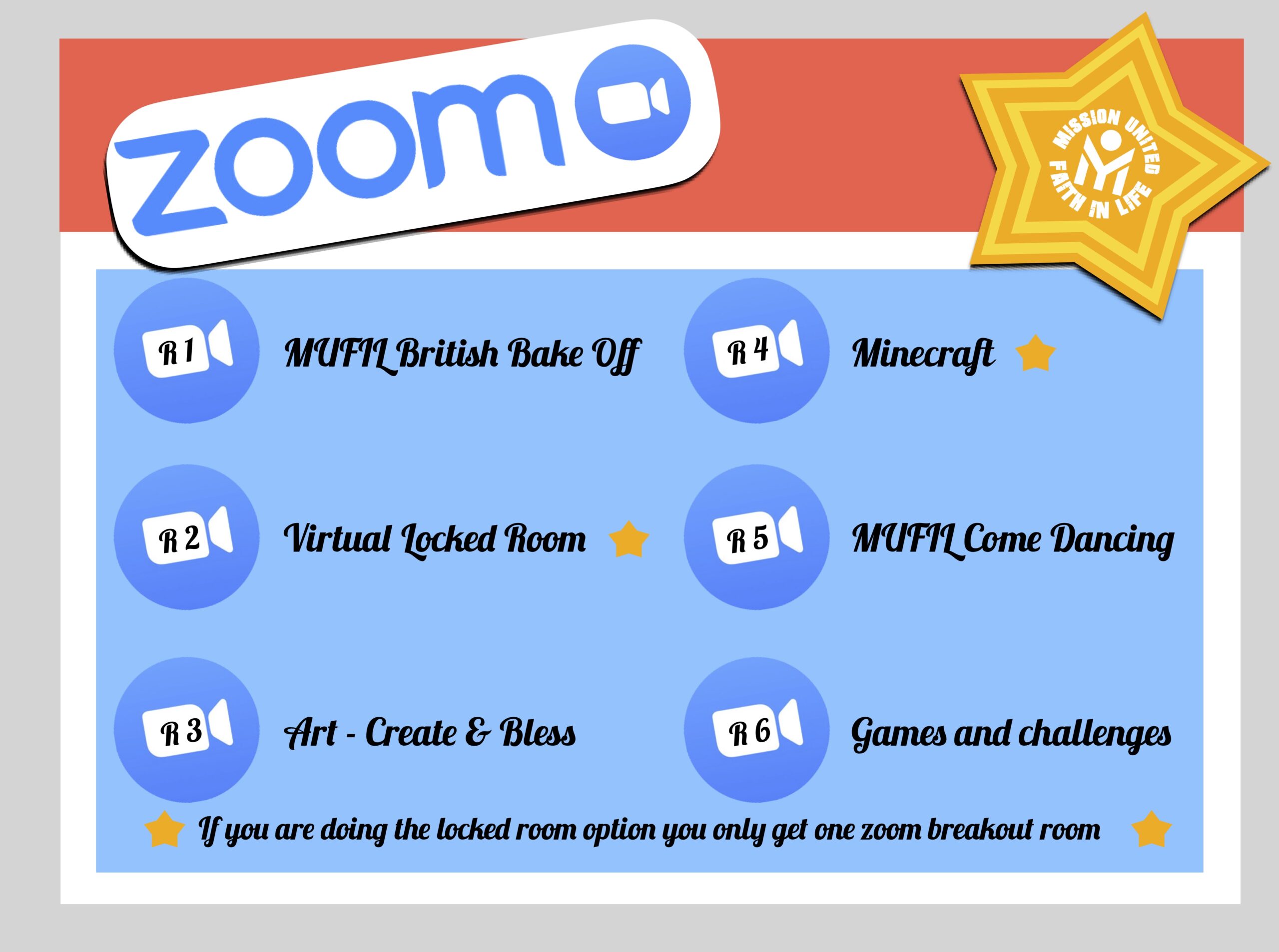 The above timetable and room options are subject to change. If this affects you we will notify the lead youth worker.
What is Mission United Faith In Life?
We are a group of youth leaders from across Leeds and Bradford who gather young people three times a year (two residentials and one evening). Our vision is to help young people see the importance of knowing who Jesus is, unite together in times of worship, mission activities and teaching times to explore their identity in Christ and God's plans for them. We have lot and lots of fun in the times we meet. Click the video to hear more.
Since our gatherings began in 2012 we have seen over 800 young people take part and we are excited to see what God has in store in the future. We meet three times a year in February, July and October.
Who are MUFIL Gathering open to?
If you work with secondary age young people (regardless of where they are in their faith journey), you are invited to bring them along to any of the MUFIL gatherings. Our gatherings will offer your group the chance to meet young people from across Leeds and Bradford, explore faith, be encouraged to live for Jesus and take part in mission activities as well as have lots of laughs along the way!
Young People's Comments from one of our recent gatherings – Young people's feedback
Why do we Arrange MUFIL Gatherings?​
Youth leaders we are in partnership with are passionate about working together to create opportunities to inspire and equip young people both within their everyday life and beyond the local church. They are committed to becoming part of a united movement which looks to help young people explore and rely on Jesus, learn a biblical understanding of missional living and encounter Jesus through worship and social action.